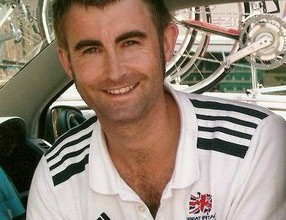 Andy Naylor has practiced sports massage and sports injury prevention for a number of years now.  Being active in the cycling and triathlon worlds, he's massaged top PROs such as Mark Cavendish, Matthew Wilson, Jeremy Hunt and Matt Lloyd just to name a few.  In Europe Andy was asked to be a soigneur for the British U23 National Team and has a Massage Therapy practice in Melbourne.  Andy has also been a top level cyclist for many years and still rides every day, so he knows exactly how to assess common cycling injuries and treat them through massage.  He found knots and imbalances in my legs that I never knew existed!  He knows exactly what type of massage to give to improve your cycling.If you're going to pay the money for a massage, you should see someone who has worked with cyclists before and preferably who is a cyclist.  A rare combination to find.
There's lots to know about massage if you want to get your moneys worth.  Who to see, when to get it,when not to get it, what type to get, where you need it, what to expect in terms of how your body will react, etc. I roped Andy into writing some CYCLING TIPS to give us the scoop on massage for cyclists that I'm looking forward to reading.
Contact: Texting preferred 0430 204 707
Email: naylor@hotmail.com
Sports massage

Sports Injury massage

Triathlon and cycling specific massage.

Normal Deep tissue massage.

Maintenance massage.

Tips for runners, cyclist and swimmers.

Bicycle fitting

Time trials on bike.
90 Minutes

$ 100.00

60 Minutes

$ 70.00

As of August 1st 2017 60min sessions will be $75

Bike Fitting, Time Trials, Specific Requests

(Contact Andy)